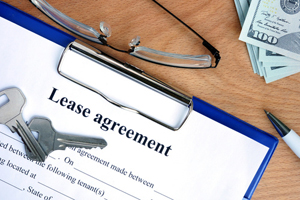 Commercial real estate leases might seem daunting, especially since they're a long-term commitment and a heavy investment. But, they're not as complicated as you might think.
Generally speaking, there are three main types of commercial real estate leases:
Gross, or Full Service, Leases
Net Leases
3. Mortified Gross Leases
All these leases have one thing in common – they all provide a base rent with options for who pays for which operational expense. Here's a breakdown of the different lease types:
Gross/Full Service Lease
With this lease option, the tenant's rent covers all operating costs, including expenses like utilities, maintenance and property tax. The landlord pays these property operating costs with the tenant's rent. While the base rent might seem relatively high, it's the only cost to the tenant.
Many tenants prefer a gross lease – the rent is fixed, and they don't need to worry about operational costs. In the summer, for instance, you won't spend any more money as energy consumption increases.
A gross lease is easy for the tenant – they can forecast expenses and concentrate on growing their business.
You'll find gross leases mainly for retail, industrial and freestanding commercial properties.
Net Lease
This commercial real estate lease is highly adjustable. While the base rent might be lower than a gross lease, a net lease requires the tenant to pay fixed operating expenses, like insurance, maintenance and property taxes. The 4 types of net leases include:
Single Net Lease: The tenant pay rent, a portion of the property tax, and utilities directly. The landlord assumes building expenses.
Double Net Lease: Similar to a single next lease, a double net lease requires the tenant to also pay a portion of the property insurance.
Triple Net Lease: This is perhaps the most common lease agreement – on top of their base rent, the tenant also pays for some or all of insurance, property tax, and common area maintenance.
Absolute Triple Net Lease: This is probably the most uncommon commercial lease. In this magnified agreement, the tenant assumes all costs – they have sole responsibility of the building. While the tenant basically "owns" the building without buying it, they are also responsible for all property damage and catastrophic instances.
Modified Gross Lease
This lease offers fair middle ground for both tenants and landlords. A modified gross lease fosters a range of negotiations and dialogues around operating costs. Here, the lease rate remains fixed – even if costs increase or decrease.
Before signing a lease for your next commercial real estate space, read the proposed agreement carefully. Clarify with the landlord exactly what expenses you are responsible for.