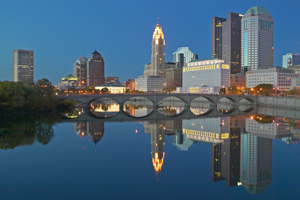 Whether an entrepreneur is already here or looking to relocate, Columbus, Ohio is a prime location for starting a new business. With a strong base of existing businesses, low unemployment, an affordable cost of living and a well-educated workforce, it creates a better launching pad than "hot spots" like San Francisco and New York City.
Columbus region by the numbers (2015):
2.1 million residents (11-county region)
15 Fortune 1000 company headquarters
10-hour truck drive to 47 percent of the U.S. population
$19.32 average asking rent for Class A office space ($52.44 in San Francisco)
90.2 on the U.S. Metropolitan cost of living index (Boston: 137.7)
Unemployment rate: 4.1% (U.S.: 5.5%)


The City of Columbus also provides the Small Business Builder online resources to help entrepreneurs plan for a new business or expand an existing business.
Want to learn more about commercial real estate in Columbus? A DRK agent will help you uncover the wide range of opportunities in our metropolitan area.