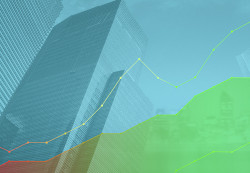 Commercial real estate came out swinging in the second half of 2019, surprising many who anticipated the year would bring the end of an upward economic cycle. Last year's price totals blew past 2018, which was a record-breaking year itself.
The unexpected growth in the latter half of 2019 came as a pleasant surprise to those waiting for the sky to fall on a 2020 recession.
Outgrowing Expectations
While the final quarter wraps up, the current tally puts 2019's preliminary commercial real estate deals at roughly $600 billion. The final quarter of 2019 could prove to be the industry's heftiest yet with projections of another $100 billion coming in by the end of the decade.
This total is an exponential difference from 2009's post-recession results that barely grazed $100 billion.
Sector breakdown of 2019's commercial real estate:
Multi-family investments: $185 billion
Office space: $149 billion
Industrial $121 billion
Retail: $114 billion
Hotels: $40 billion
The office and industrial sectors reaped the benefits of increased demand for mixed-use office spaces and warehouses. However, the uptick in online shopping resulted in retail taking a slight hit as large brick and mortar shopping centers struggled to compete.
What About 2020?
The consensus is still out on what the positive last-ditch efforts of 2019's commercial real estate will mean for the new decade. Some industry experts believe 2020 will continue the positive trend, and there are plenty of indicators to support their claims.
Multi-family investments are at a 13-year high as people and businesses alike continue to move into secondary and tertiary markets. Industries find these markets attractive for their higher cap rates and readily available workforce.
Online retail giants like Amazon continue to drive the demand for industrial space while snapping up small rental stores to serve as product delivery centers.
Foreign investors continue to search for real estate, despite their overall investment decline toward the end of 2019.
Other experts are skeptical of what's to come in 2020. The trade war with China and the upcoming presidential election could become major players in the future of commercial real estate so that only time will tell.
DRK provides highly-qualified commercial and investment teams, so you know you're getting the most from your assets. For more information on our services, call us at 614-450-2404 or contact us online