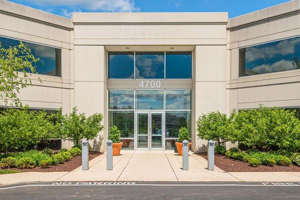 DRK and Company is pleased to offer 4700 Lakehurst Court for lease to Columbus- and Dublin-area businesses.
"The property at 4700 Lakehurst Court is a professional office building, and we're offering the full second floor for lease," says Jim Bain, the DRK commercial real estate agent representing the listing.
DRK and Company is offering, as we always do, build-to-suit arrangements to customize the design and layout of the space, and will happily parcel the space to suit your operational needs and budget. "Though the entire second floor is available, we can lease anywhere from 1,400 square feet to 25,000 square feet," says Bain.
"The space is ideal for a variety of professional-services businesses, such as law practices, accounting firms and marketing agencies," he added. "Many professional businesses occupy the first floor of the building, so a lot of the technical infrastructure is already set up, including phone and internet lines."
The property at 4700 Lakehurst Court is located in the Dublin submarket, but offers a Columbus address, making it an ideal location for those doing business in the Columbus market. It offers easy access to I-270 and the Dublin, Ohio and Hilliard, Ohio areas, and is also close to the Tuttle Mall.
Building features include a pristine entrance, professionally landscaped exterior and contemporary design elements. Tenants have secure keycard access and an elevator for employee and guest convenience.
The owner is offering a gross lease, where you'll enjoy fixed rent and don't need to worry about operational costs. With this type of lease, you can easily forecast expenses and concentrate on growing your business.
For more information on leasing 4700 Lakehurst Court in Columbus, contact Jim Bain at 614.540.2404 with DRK and Company today!