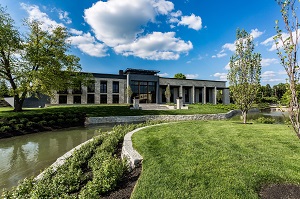 DRK and Company is now proudly leasing 750 and 760 Communications Parkway to Greater Columbus-area businesses.
"The properties at 750 and 760 Communications Parkway are professional, two-story, Class A brick-faced office building with glass accents," explains Jim Bain, the DRK commercial real estate agent offering the listing.
There are first floor suites available at both properties, and the 2nd floor of 750 Communications is also available for lease. The 760 property also offers a private annex space, fully finished and ready for occupancy. A generous buildout allowance is available for tenants to use towards construction in the unfinished spaces that are available.
The buildings were constructed in 1984 and were fully renovated in 2016, inside and out, and features high-end finishes and new mechanicals, stone columns and walkways, and grand lighting as well as a beautiful water feature and outdoor patio areas with ample on-site, free parking.
Both properties benefit from furnished two-story lobbies with wood flooring and accents, digital reception service, a Starbucks coffee bar, ample natural light through large windows, passenger elevators, and an open staircase. The 760 property offers common area restrooms while the 750 property offers private in-suite restrooms.
In the heart of the Arlington/Grandview submarket, 750 and 760 Communications Parkway offer immediate access to Route 315. Situated near Bethel and Olentangy River Roads, just off Knightsbridge Boulevard, these properties enjoy excellent visibility and multiple points of ingress and egress as well as proximity to Riverside Hospital and its affiliated services, numerous medical practices, and plenty of retail and dining options.
An affluent suburban enclave located in the Northwest Columbus, Ohio metropolitan area, the Arlington/Grandview community offers excellent infrastructure, strong economic performance and a growing population with access to a highly educated workforce.
For more information on leasing 750 or 760 Communications Parkway in Columbus, contact Jim Bain at 614.540.2404 with DRK and Company today!