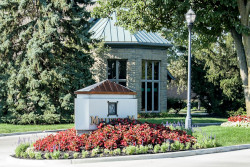 Located in the heart of Dublin, Ohio, Millennium Office Park is located in a park-like setting off of Frantz Road, just 25 minutes from John Glenn International Airport. Surrounded by established landscaping and mature trees, Millennium Office Park provides individual entryways, ample parking and easy access to hotels, dining, shopping, and various events.

This property is just minutes away from Tuttle Crossing, I-270 and State Route 33/161, making for easy access to and from all of metropolitan Columbus.
With leasing and professional property management teams on-site, this site will continue to be an attractive location for small businesses and their clients.
For more information about this listing, please contact Jaimine Johnson, Amie Lenhart or Jennifer Jordan or by calling 614-540-2404. We pride ourselves on growing with you as a business and look forward to hearing from you.