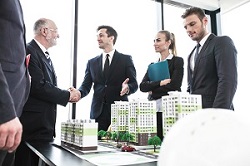 Multifamily investors are on the hunt for the diamond in the rough and, surprisingly, they've shifted their efforts toward secondary and tertiary markets. The continued economic boom has seemingly played itself out in primary markets and now it's time for smaller and mid-sized cities to take the spotlight.
Primary markets are still hot commodities, but the cost of living and operation is becoming an unattractive drag for companies and employees alike. And now this exodus of businesses and workers has caught the wandering eyes of multifamily investors.
So, What's The Deal?
As the economic benefits of a robust economy continue to trickle down to smaller cities, these secondary and tertiary economies can now offer a higher investment yield than ever before.
By the numbers, secondary and tertiary markets are leading the pack:
In 2019, 55% of apartment properties were bought in secondary or tertiary markets.
Apartment vacancy rates dropped from 6.6% to 3.8% in secondary markets.
Vacancy rates dropped in tertiary markets from 7.2% to 4.8%.
Cap rates average 7% in tertiary, 5.3% in secondary, and 4.1% in primary markets.
So, what do all these numbers mean? Well, for multifamily investors it means things are looking up. As people exchange the bustle of the big city for the more affordable atmosphere of smaller towns, the demand for housing continues to skyrocket.
Demand for new multifamily units and upgrades to current units means multifamily investors have a veritable smorgasbord of opportunities to fill an ever-growing need. Currently, there are 7 million affordable homes available for 11 million people, which boils down to roughly 37 homes for 100 low-income households
Risk And Reward
These viable markets offer plenty of positive opportunities for investors such as:
Filling a gap in consumer demand while boosting their bottom line
Protection from economic downturns as secondary and tertiary markets will feel less of the fiscal sting
Millennials and baby boomers creating a steady demand for rental units
However, as will all investments – especially those with hungry investors on the hunt – there are risks to secondary and tertiary markets. Tenant turnover is a greater risk in smaller markets, which can be more cause for concern during an economic dip.
For more information on multifamily investment or to learn about our investment services, reach out to us at 614-540-2404 or contact us online.