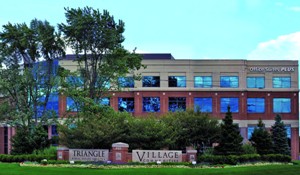 The Columbus region, including Westerville, Ohio, is home to a variety of unique communities that are ideal for your business needs. These are the top 3 reasons you should rent your next commercial property in Westerville, OH.
1. Location, Location, Location
Westerville is one of the most centrally located cities in the Midwest. Located within 500 miles of over half of the populations in the U.S. and Canada, Westerville is also less than 200 miles from major cities like Cleveland, Cincinnati, Pittsburgh and Indianapolis.

It's ideally suited for commerce since it's only a 30-minute drive to every major metro area in the Columbus region. There are 4 convenient access points to Westerville – Polaris Parkway, South State Street, Sunbury Road and Cleveland Avenue. If you open up shop in Westerville, you'll be just 10 miles away from the Port Columbus International Airport.

2. Cost Savings
In Westerville, your business will have lower utility costs and faster response times because many utilities – water, electric and a high-speed network – are municipally owned and operated.
You'll also enjoy business-friendly tax rates when compared to other locations. The City of Westerville boasts a 2% income tax rate on a business' net profit, a lower tax rate than most communities in Ohio.

3. Improved Infrastructure and Educated Workforce
The Columbus region continues to expand, and infrastructure needs more attention than ever before. The City of Westerville and ODOT are working together to continually improve traffic pattern efficiency.

Westerville also boasts a nimble, technologically savvy, eager workforce to meet the needs of your contemporary business. The Columbus region is home to 59 colleges and universities with more than 136,000 enrolled students and 20,000 graduates each year.

In the heart of the city, you'll find Otterbein University, enabling your business to benefit from a pool of well-trained and diverse talent. And, just 15 miles away is Ohio State University, ranked #54 in the nation.

Also, there are 35 career and technical schools in the Columbus region, a huge manufacturing community that needs such skilled labor. Westerville itself is home to Hondros College and Bohecker College-Columbus, with programs ranging from nursing to medical business administration.
DRK and Company proudly offers commercial properties for rent in Westerville. Check out 110 Polaris Parkway today. This professionally maintained property is just minutes from I-70 and can accommodate professional offices of all kinds, including legal, financial, creative and medical. The surrounding Polaris market includes restaurants, banking, hotels and fitness, making the location ideal. Lease now before construction is completed and prices rise!
For a personal showing, contact us online or call us directly at 614-540-2404 to speak with a leasing agent.