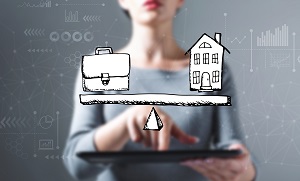 Setting boundaries between your work and home lives is essential for your mental health. But since the pandemic has forced many of us to work from home, those lines have become increasingly blurred.
Why You Should Separate Work from Home
Home is the place you go to get away from the stress of the workday. Being able to leave your work worries in a different location helps you switch your mindset from the daily grind to relaxation. Separating work and home reduces the likelihood of burnout and conflict and can improve your emotional well-being.
However, when you work from home, you may feel like you're constantly on the clock and can't escape the chaos that often accompanies your job. That's why it's imperative to set boundaries for yourself while working from home.
Get Prepared to Work at Home
Even if you don't commute anymore, it's still beneficial to allow yourself time to get ready to work at home. Create an at-home "commute" to give yourself time to prepare for the day:
Wake up at the same time each day and conduct your usual morning routine – yes, that means you have to get out of your pajamas.
Have your morning coffee and a good breakfast.
Take a 15- or 20-minute walk to get your heart and blood pumping.
Finding the Right Mental and Physical Space
Treating your at-home workday like you're heading into the office helps you get in the right headspace. But working from home comes with lots of physical and mental distractions.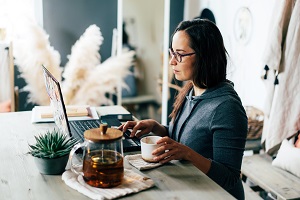 You know the saying: out of sight, out of mind. Remove as many distractions as possible and give yourself time to mentally evaluate your daily tasks. And if that doesn't work, a physical to-do list is always helpful too.
Here are some other tips for setting up your home workspace:
Designate a room or space for your office.
Keep your work computer, phone, notepads, paperwork and files in that workspace.
Remove any distractions like televisions and personal devices from your office.
Put away all work items at the end of each day.
Step Away from the Home Office
Finding time to get away from your work is crucial. Schedule a lunch break at the same time each day and stick to it. Set an away message on your phone and email and allow yourself time to eat before getting back to work.
Whether it's a personal day or a longer vacation, taking leave is even more important when you're working from home. Your work life can easily extend after hours, which makes it challenging to unwind. Taking leave allows you to step away from that part of your life, rest and reset so that you can come back with a fresh perspective.
DRK and Company's dedicated team can make your at-home work life a little easier. Call 614-540-2404 or contact us online to learn about our services.
Enjoy your week,
DRK and Company has several spaces available for those looking to separate their office and home lives. Check out our listings below:
Newly Renovated Offices at Corporate Hill