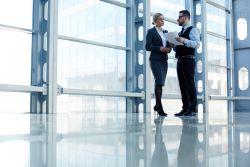 You're a smart business owner - you probably could secure a new commercial property on your own. But you're a smart business owner with a lot on your plate – you would also probably spend thousands of dollars more and grow a few more gray hairs than if you used the services of a broker.
Securing a commercial real estate lease is one of the most important aspects of being a business owner. Having one that looks out for your best interests, both in the short and long term, can be a strong foundation for your success. A poorly crafted lease can sabotage your business, even if you have a solid business model.
The high-stakes, complex and constantly evolving waters of the commercial real estate market are not always friendly for those who aren't familiar with the buying and selling process. A broker can help you find the most suitable space for your needs at a price you can live with, all while representing your interests to ensure you get the best deal possible.
Here are a few of the ways a broker can help you with the leasing process:
Use their local knowledge to your advantage: This isn't your broker's first rodeo, hopefully. They know the latest trends in your market, including what types of lease terms can be expected.
Save time and money: What business owner doesn't need to save a little time and money? Trick question, because all of them do. Using a broker takes the task of finding and negotiating a lease off your hands. An experienced broker will not only save you plenty of time and headaches, but they also help you save one of the bigger headaches of leases: hidden fees.
The power of connections: Chances are good the broker has worked with landlords in the past and can use their connections to push for additional benefits such as tenant improvement allowances to customize the building for a tenant's particular needs. If you're selling, they know investors and know how to find interested buyers.

To discover how DRK and Company Realty can help you with contract negotiation, brokerage services, acquisitions, and dispositions, call us at 614-540-2404 or contact us online.