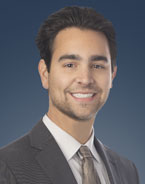 Sales and Leasing Agent
Realtor
E-mail Perry Smith
Perry Smith works for DRK & Company as a commercial leasing and sales professional.

A central Ohio native, Perry received his B.A. from Ohio University where he majored in finance while also taking classes in real estate.
Before transitioning to the commercial leasing and sales team Perry held the position of Assistant Property Manager for Triangle Commercial Properties LLC, containing a portfolio of 3,000,000 SF of office, flex, retail and industrial space under management.
Perry's focus is on the representation of buyers/sellers and landlords/tenants in all fields of commercial real estate around the Central Ohio area. He is a licensed Realtor, and a member of both NAIOP Developing Leaders and CCIIR.