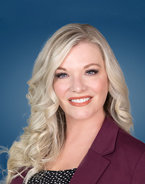 Director, Commercial Operations, Leasing and Sales
Realtor
E-mail Jaimine Johnson
DRK Top Commercial Agent 2019
DRK Top Leasing and Sales Agent 2020
As Director of Commercial Real Estate Assets for DRK, Jaimine Johnson develops and implements long-term strategies for the commercial asset division in the investment management of office, industrial/flex, medical, retail properties. With assets in excess of $225 million in the DRK portfolio, she has a proven record of success in developing strategies that drive revenue and increase overall business profitability.
Jaimine, who previously worked at DRK from 2007 to 2015, brings a wealth of real estate experience to the company. She has overseen transactions involving the asset management, sales, leasing and marketing of commercial properties, while executing initiatives to promote and support company growth, global planning, new business start-ups and company branding. In her time at DRK, Jaimine consistently maintained a 96% tenant occupancy rate, while increasing outside listings by 83%.
Jaimine's recent real estate expertise in Columbus includes working as first vice president of Colliers Healthcare Real Estate Group. There, she directed the real estate strategy and operations in providing consultative services for healthcare systems and service providers both in Ohio and a national platform. She also served as senior vice president of commercial real estate at Huntington National Bank, where she developed strategies to enhance the real estate portfolio comprised of $10 billion in office, retail, land out parcel properties.
She was a 2013-2014 selection for the "Top 20 to Know in Real Estate" and "Top 20 Women in Business" by Columbus Business First, was a Costar Power Broker in 2014, and the Top Leasing and Sales agent for DRK in 2019.