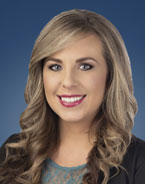 Property Manager
Realtor
E-mail Clarissa Dean
As property manager, Clarissa Dean coordinates property management and compliance at DRK – including lease setup and commencement and lease compliance monitoring. Her list of property management duties include supporting the team with RFPs, budgeting, CAM recommendations, collections, expense control and contracting. But wait there's more – Clarissa also assists with tenant improvement and capital expenditure projects such as bidding, contracting and project management.
Prior to arriving at DRK, Clarissa amassed significant experience in property management and leasing in the Columbus area. She served as assistant property manager for Nationwide Realty Investors, where she was tasked with managing renewals and delinquencies for a 252- unit property. She also served that company as a leasing consultant, responsible for cross selling and upselling within NRI's portfolio. She also provided tours to potential residents and followed up on leads and executed lease signings.
Clarissa was also a Columbus Touring Ambassador from 2016-2018.