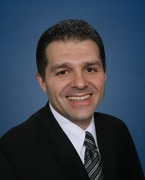 Investment Consultant
E-mail John Gjamov
John Gjamov joined DRK & Company in 2001 as a Commercial Leasing and Sales Agent where he focused on office, warehouse and flex property leasing and sales. John transitioned to the Investment Sales Team in 2007. His current focus is on Multi-Family, Office investment sales and Land Acquisition.
His professional goals are to provide excellent service putting the needs of his clients first and building lasting relationships from his service to others.
John graduated from The Ohio State University in 1993 with a Bachelors Degree in Financial Management. John is also a member of the Columbus Commercial Industrial Investment Realtors (CCIIR).