Columbus is hot. And we're not talking about the weather.
Columbus is undergoing huge economic expansion and population growth. Not only has Columbus surpassed Cleveland and Cincinnati as the engine of Ohio's economic and population growth, but Central Ohio's prominence is only expected to grow. The Columbus region's population is projected to rise by more than 25% in the next 30 years—enough to offset a projected 3% population decline across the rest of Ohio.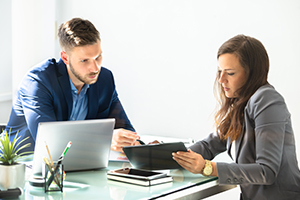 With all this growth today and on the horizon, real estate investors and developers are taking notice. That's why Columbus is America's hottest housing market and one of America's most dynamic real estate markets.
But long before Columbus won the Smart Cities Challenge or was named one of America's top "innovation hubs," local real estate brokerages recognized the enormous potential of Columbus, Ohio.
Riding the "strongest growth in a generation," many are now getting interested in commercial real estate. For prospective investors, it's worth asking: why do I even need a brokerage? Isn't a brokerage just a middleman?
It's a fair question. After all, if you're throwing around thousands or even millions of dollars, you ought to know if you're getting your money's worth. Why not just go it alone?
WHAT BROKERAGES WANT
You probably already know the sorts of logistical and on-the-ground services CRE brokers and commercial tenant representative brokers can provide. (If you don't, definitely check out the linked article!)
But to understand how a brokerage can really create value—rather than merely skimming off the top as middlemen—we need to think about what a brokerage is, what it wants, and how that relates to what the client wants.
It's true, commercial real estate brokerages are businesses. Like all for-profit entities, they want, you know, profit. None of this is secret, and none of it should be.
But here's the thing: any decent brokerage knows better than to rip off investors—even less experienced ones. This isn't an act of altruism on the broker's part. It's something much more reliable - self-interest.
Thieves find victims. Conmen find marks. Brokers find partners.
HOW TO VET CRE BROKERAGES
While there's no surefire formula for trustworthiness, a great way to gauge reliability is age.
Brokerages are built on relationships, and relationships take time to grow and flourish.
A good brokerage wants to make money, and they know they can make more money with investors than from them. It's good business in the long term. If a brokerage has been around for decades, that means they had to have generated value for investors over time. Why else would you keep working with them?
While young brokerages may indeed be reputable, knowledgeable and reliable, it's hard to assess any of the above when the firm hasn't existed for long enough to prove it.
Seasoned investors can afford to take risks on newer, unproven brokers. They have the capital resources to weather a loss and the experience to make better-informed decisions. First-time or early CRE investors should hold brokerages to a particularly high standard of credibility.
PENNYWISE, POUND FOOLISH
All investors want to save money, but smart investors know the difference between cost-saving and corner-cutting. If you're getting into CRE for the long haul, you would be wise to build your portfolio on strong foundations.
There's another saying that we like to think about in CRE: "playing with fire." Some people read this as a warning to avoid fire at all costs, but it's more of a reminder to use fire responsibly.
After all, fire is useful. It gives us everything from s'mores to electricity. Still, that doesn't mean we'd let a toddler fire up the George Foreman—at least not without supervision.
Prospective Investors and developers aren't toddlers, of course. But commercial real estate is a heck of a lot more complicated than fire.
If you're new to CRE investment, we at DRK strongly recommend working with a local brokerage. Ideally, that brokerage should 1) be based in the market where you're investing, and 2) have a proven track record.
If you're interested in Columbus, Ohio commercial real estate, get in touch with DRK & Company Realty.
We wouldn't have survived for more than 50 years in the business if we didn't know our stuff.
Have a great week,