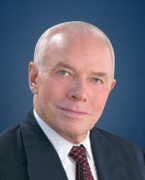 An entrepreneur. A leader. Donald R. Kenney has built a legacy of value-driven multifamily, commercial, residential, property management and investment enterprises in Central Ohio during the past 45 years. Despite market shifts and economic downturns, Kenney's innovative strategies have kept him on top as he has seized opportunities and taken advantage of emerging market trends.
A native of Columbus, Ohio, Kenney attended The Ohio State University before founding Donald R. Kenney & Company Realtors in 1966. Today, DRK is ranked among the top five commercial real estate companies in Central Ohio.
In 1969, Kenney founded Triangle Investment Company. In the years since, the company has built more than 35,000 multi-family units, more than 8 million square feet of office and office distribution space and hundreds of other office, retail and commercial projects.
In today's very competitive market place, DRK and its affiliate organizations strive to produce the highest level of consumer satisfaction, which drives the overall success of the organization.