When you consider where to buy commercial land, Columbus, Ohio may not be at the top of your list.
But by overlooking this large capital, you may be missing out on some amazing opportunities.
For expert insight, we turned to our partner, Ted Uritis, Director of Finance and Sales at Metro Development.
Q&A with Ted: Commercial Land in Columbus
Why should interested investors choose Columbus, Ohio?
The growth in Columbus continues to be strong and steady. Because of a diversified economy – in terms of insurance, healthcare, technology, education, etc. – Columbus is less susceptible to major fluctuations in demand than some other markets.
Is there available capital? Banks? Private investors?
The capital markets continue to be very liquid, despite rate volatility. Banks are all looking for ways to grow their balance sheet. Private investors are looking for ways to deploy capital into hard assets, such as real estate, as a counter to projected inflationary concerns.
Have you seen a high volume of interest in commercial land in Columbus recently?
Interest in commercial land continues to be strong and is increasing. The growth throughout the region continues to create opportunities for new development of all property types.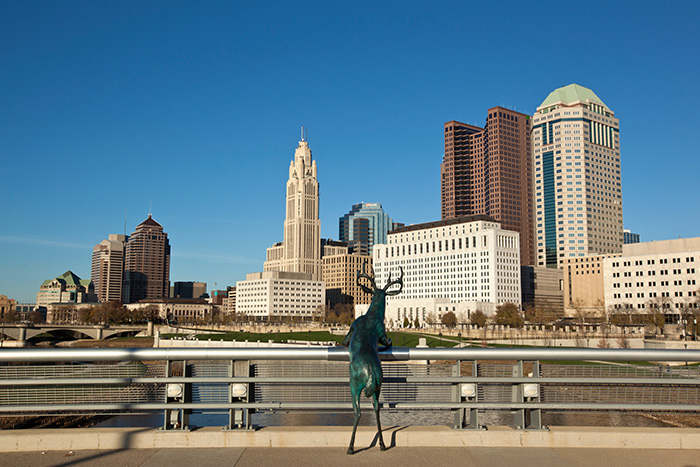 What advice would you have for someone searching for land in Columbus?
Know what the municipality wants to see developed. The likelihood of obtaining any rezoning is largely dependent on buy-in from the municipality. Does the intended use of your land fit within their long-term plan?
Does Columbus have professional communities that offer support?
Yes! We have One Columbus, JobsOhio, the Columbus Chamber of Commerce, plus other strong groups.
Columbus is a Prime Location to Work and Live
Working in Columbus, Ohio
Columbus is home to 2.2 million people, with a potential workforce of 1.2 million. The median age is 35.9 years and 36% of residents over the age of 25 years hold a bachelor's degree or higher. That means Columbus has one of the youngest and most educated populations in the country, creating a steady pipeline of fresh talent.
When your business is in Columbus, you're a one-day drive from 47% of America's population and 48% of business headquarters, making this region a prime logistical hub. Plus, Columbus ranks first among large metros in the Midwest for population and job growth, and it's one of the fastest-growing cities in America.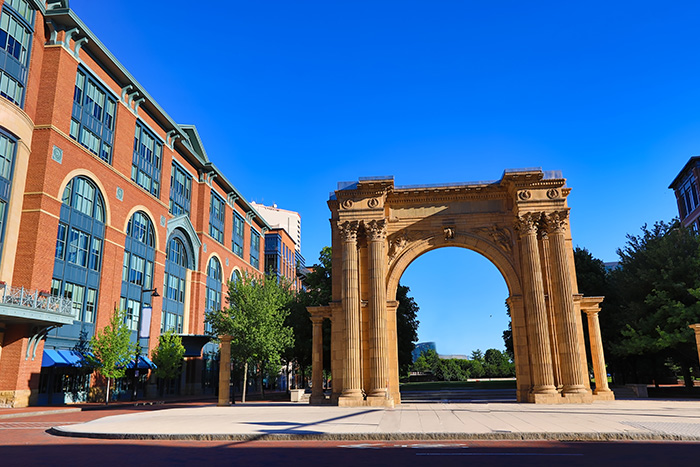 Exporting is a breeze thanks to Rickenbacker International Airport, one of the only cargo-dedicated airports in the world. It's located just 10 miles south of Columbus. And since Foreign Trade Zone 138 encompasses the Columbus region, goods can be brought in without formal customs entry, ensuring faster, hassle-free shipping.
Business travel is also easy with John Glenn Columbus International Airport, located 15 minutes from downtown Columbus. Direct flights to major cities are available, such as New York, Chicago and Atlanta.
Living in Columbus
Beyond the ample workforce and commercial real estate investment opportunities, there's always something fun to do in Columbus. Residents enjoy a lively community with frequent concerts, sports games and summer festivals. You'll also find art galleries, shopping malls, Botanical Gardens and Metroparks. There's even a diverse selection of restaurants and neighborhoods. Click here to learn more about what it's like to live in Columbus.
Ready to explore commercial land in Columbus, Ohio? We can help you find the right location and develop your new property. Give us a call today at 614-540-2404.
Other blog posts you may enjoy:
6 Tips to Prepare for Your Industrial Property Search In 2022
Why It's Important to Diversify Your Investment Portfolio
Don't Do That! 5 Costly Mistakes to Avoid When Buying Real Estate