It's time to think green when considering how you run your commercial property.
Real estate management requires plenty of energy and resources, and maintaining environmentally conscious business practices can save you cash in the long run. Focusing on sustainability also yields benefits for your tenants, your reputation and, of course, the environment itself.
Here's a handy guide to sustainability in property management and some tips for how you can implement green tactics into your real estate operation.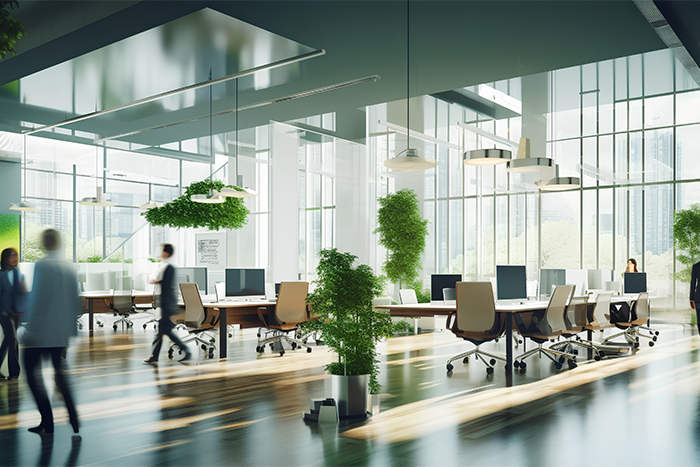 Why Property Managers Should Invest in Sustainability
Making the switch to more environmentally friendly property management methods is a big change, but is it worth it? The short answer is yes, but here are some specific reasons to consider.
Outside of the obvious benefits to the planet, running a sustainable property is an attractive prospect to potential tenants. If they see your property as contributing to a cleaner environment, they might be more inclined to sign a lease.
Green property management is also a money saver. Using gas instead of electricity to power appliances like washers, dryers, refrigerators and ovens is a proven way to conserve cash, and other methods like installing solar panels or improved insulation in every wall and floor are also great cost-saving measures.
Ways to Incorporate Sustainability in Property Management
Implementing environmentally-beneficial property management strategies doesn't happen overnight. You'll need a solid plan, plus a helpful list of strategies to focus on.
Here are a few methods to consider:
Recycle
Your tenants' waste has to go somewhere, and that "somewhere" is usually an onsite dumpster or two. If your property doesn't include a recycling program, those dumpsters are likely piled high with plastic, glass, metal, cardboard, paper and other recyclable materials. Instead of sending tons of reusable resources to a landfill during every trash pickup day, consider instituting a recycling system. Have designated bins or dumpsters for different types of recycling, and encourage your tenants to sort their waste.
Install Native Plants
A little well-chosen greenery around your property will do a lot more than just increase your curb appeal. The next time you need to replant flowers, bushes, shrubs or trees, be sure to use plants that are native to your area. They'll adapt better to the soil than plants from different regions, which means cutting down on extra watering and excessive use of pesticides and growth accelerant.
Get Better Windows
Something as simple as improving the windows and natural light in your property can have big impacts on sustainability. Bigger windows mean more sunlight inside a unit, which cuts down on interior lighting and, therefore, energy bills. Better seals around each window will also prevent air from escaping in or out, which means less energy to heat or cool a unit.
Energy-Efficient Appliances
As mentioned above, appliances like washers and refrigerators can be energy hogs. Furnish your property with devices from energy-efficient brands or companies with high-efficiency ratings. You could save anywhere from 10% to 50% of your energy consumption with each of these appliances.
Encouraging Sustainable Property Management
Implementing green management strategies is only part of the process. While some tenants will be on board from the beginning, others might need some convincing for why sustainability is a focus of your property.
Consider these ways you can encourage tenants to give a greener lifestyle a chance:
Demonstrate the Ease: If more tenants realize how simple some of your green practices are, the more open to using and/or living with them they'll be. Communicate the difference that a simple change like switching from single-use plastic to glass can make on the environment. Suggest installing LED lights instead of traditional light bulbs, or receiving their energy from a green provider. All of these ideas are simple steps that you can excite and motivate your tenants into taking.
Prove the Advantages: If your tenants require proof, provide them with some. Share data with your tenants as evidence for the benefits of sustainability, or point them to articles, podcasts and success stories from others who've benefitted from the shift to green living.
Incentivize the Change: Some tenants might need a bit more convincing, and that's where incentivizing can go a long way. You can promote your green practices with lower rents and utility charges, or by rallying tenants to help your property rank in online searches for sustainable properties. Consider charging a smaller commission rate, or developing rewards for hitting certain energy benchmarks.
Benefits of Sustainability
In addition to protecting the environment, saving money and enticing prospective tenants by boosting your property value, green property management has many other benefits worth considering.
Here's a list:
Tenant Health: Improved sustainability has been proven to increase the health of tenants. Both physical and mental wellbeing can be bolstered by better air quality, improved drinking water via green filtering methods, and more exposure to natural light.
Waste Reduction: Recycling systems don't just help the planet; they also reduce the overall waste your property creates every day. This impacts everything from bottom lines and the happiness of tenants to the presentation of your property.
Less Water: Reducing water pressure and usage by stocking each unit with more efficient appliances can help the local ecology in a big way. It will also benefit your bank account by keeping water usage down across your property.
Why Are Sustainable Practices Important in Property Management?
In conclusion, sustainable property management is quickly becoming a necessity for real estate owners, and for the environment as a whole. Promoting green practices is now a major selling point for many tenants, and by encouraging a green lifestyle for existing tenants by providing data and resources, your property can become a more appealing, cost-efficient and environmentally friendly place to manage.
Are you in the market for a new property? The experts at DRK will answer your questions and help you find the real estate you've been looking for.
Take a look at these purchase-ready properties available in the Columbus, Ohio, area right here.
Until next time,
Related Blog Posts