Choosing the perfect office space requires much more than good-looking buildings and ideal parking spaces.
There are lots of factors involved in finding office space to lease for your business. From size and location to knowing how – or if – the space will fit your needs is crucial to making sure your investment is worth it.
Here's what to look for when renting office space.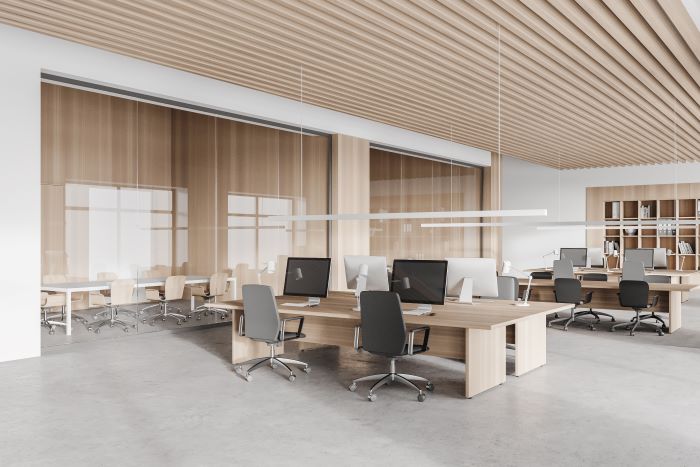 Finding Office Space That Meets Your Needs
Choosing the right space takes time and plenty of forward thinking. A space might seem ideal at first and could lure you in with positive surface qualities. However, it's important to look deeper and consider as many specifics as possible. It could save you a lot of pain – or even damage to your business – in the future.
Consider these three factors when looking for office space to rent:
Location
The phrase "location, location, location" is a popular saying for a reason. Where you're situated in the world will play a big part in your success. Will your employees be able to easily commute to the office? Will your clients be able to find you? What kind of neighborhood are you setting up camp in? Is it a safe place? What kinds of businesses are nearby? Are you near competitors, or even businesses that might ally with you? Consider all these questions before signing any paperwork.
Size
This one's also a no-brainer, but it's incredibly important to take into consideration when leasing office space. Make sure there's enough room for your employees to effectively do their jobs. Ensure that you'll have enough room for every employee and prepare for the future by renting a building with extra space and room for growth. Extra room for storage, meetings and special events is also a core element of ideal office space.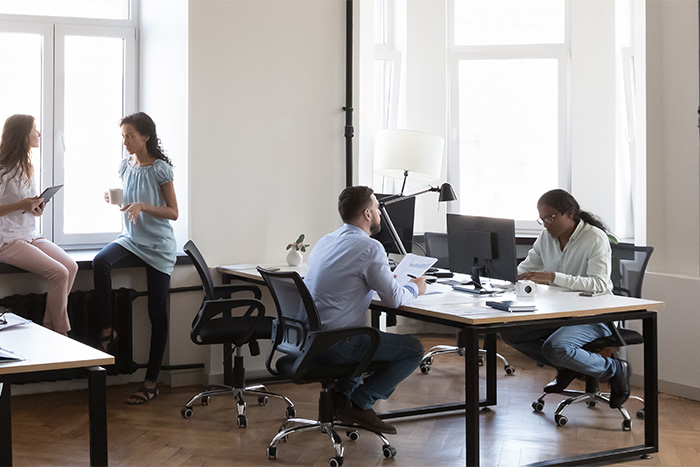 Amenities
An office space isn't just a place to work. Your employees will also need to have room to park, meet and warm up their lunches. Functioning bathrooms are typically seen as necessary, too. Does that office space you're looking at cover each of those bases? Will your employees and clients have a safe place to park? Is there room to meet with clients? How about those bathrooms? Be sure to make sure your space has the amenities your business requires.
Helpful Tips for Finding Office Space That's Right for You
Now that you have the basics down, it's time to talk tips. If you're going to rent office space, you'll need to take money, growth, responsibility and your company's needs into account.
Here are five main points you'll need to address:
Evaluate Everything Your Space Needs
And that means everything. From the space your employees will work and the number of restrooms to how the internet will work, the parking, the accessibility, the ventilation and everything in between. The better a grasp you have on your business' needs, the better equipped you'll be to find the property that fits those needs.
Determine Your Preferred Leasing Terms
How long do you expect to stay in your new office space? Do you foresee it being a long stay, or more short-term? Is your growth fast enough that you will realistically need more space in a decade? Maybe two decades? The answers to these questions will help you determine how long your leasing term should be.
Leave Room for Growth
Moving into an office space that's only big enough for the workers you currently employ is never wise. Company growth means having the space to fully embrace that growth. As mentioned above, an ideal office will have room for new employees to settle in as you hire them. You might feel like you're leaving a lot of unused space in your new office, but that space will likely fill up faster than you think. It's better to have it than not.
Know Who's Responsible for Repairs
Infrastructure eventually breaks down. The occasional maintenance issue is unavoidable, and knowing who needs to fix it will help save you time and money. Does the responsibility fall on you? Is there a company associated with your real estate that will fix issues as they happen? Will you need to hire workers out of your own pocket? These are all good questions to keep in mind.
Get Help from a Trusted Expert
Know someone who's rented office space before you? Reach out to them and see what input they have on the process. Contact a building inspector to make sure your office space of choice is in good shape. Consult any financial advisors you may have and run your numbers by them. A second set of eyes is always worth including in a big financial decision.
And if you're looking for trusted real estate experts to help you on your way, the pros at DRK are here to help. We're ready to answer your questions, give you feedback, and help you find the ideal office space to rent.
Take a look at the lease-ready rental properties available in the Columbus, Ohio, area right here.
Until next time,
Other blog posts you may enjoy:
Buying Commercial Real Estate Checklist
How to Buy Investment Property
A Helpful Guide to Real Estate Investing for Beginners