No one ever said purchasing commercial real estate was easy.
The process behind your next (or first) big property acquisition can be a complicated one. There are multiple steps, plenty of hurdles and more than a few question marks that come with the territory. Being able to navigate these steps will be crucial for making sure that every aspect of the purchase – from the property itself to the deal you sign for it – falls into place.
Here's a handy checklist of tips for buying commercial real estate.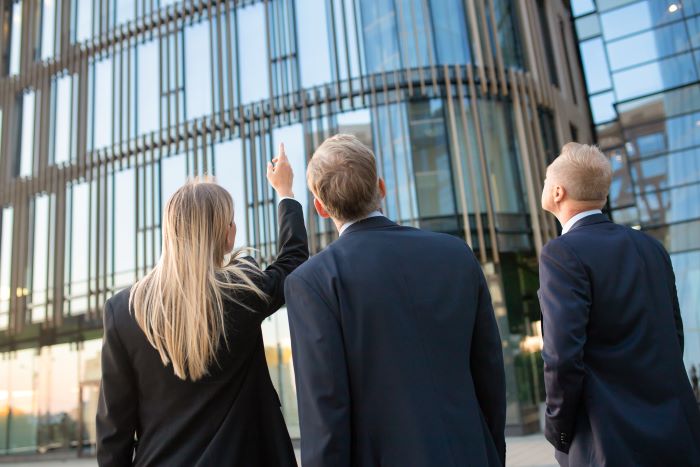 Commercial Real Estate Buying Checklist
#1: Establish Your Goals
Before any documents are signed or any money changes hands, it's important to have a clear grasp on what your goals are. Knowing what you want to accomplish with your new property will help make the searching and buying process easier. For example, ask yourself what you'll be using your real estate for. Will it be an office space, a residence or possibly a retail location? What requirements will the space need to meet to function in each of those roles?
Will you be using the property for your business or as an investment? What prices can you reasonably afford? What markets are you targeting? Will you need room to expand later? Once these goals are established, you'll be able to narrow your focus and pursue properties that fit your needs.
#2: Determine Your Financing Options
Once you have your goals locked in, it's time to talk money. Purchasing commercial real estate can get expensive fast, so determining your options for financing is an important step. First, figure out how much money you have to work with. Do you have the budget to buy what you need? If you're borrowing money, how much? What does the timetable look like for a potential loan?
It's also worth considering the additional fees associated with financing, including interest, paying a lender, addressing potential maintenance issues and more. Remember to run your numbers multiple times, and always assume that it will cost more than initially estimated.
#3: Partner with an Experienced Real Estate Firm
With goals established and money sorted out, it's time to begin your real estate hunt. This might seem like the easiest step in the process, but finding the perfect commercial property is about more than driving around town seeking out "For Sale" signs.
A trusted eye is needed, and that's where hiring an experienced real estate firm comes in. A professional broker can take your goals and financial standing and use them to help you sort through all the options to find the best property for your needs. They will also arrange visits and inspections, be present for any negotiating, and offer their knowledge of the industry to guide you through the process.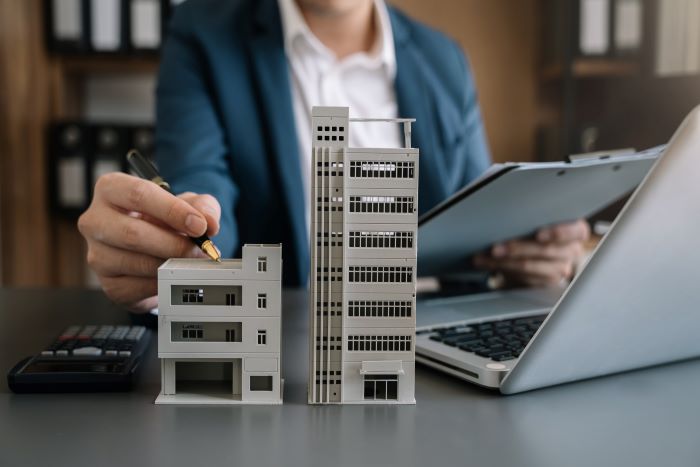 #4: Assess the Properties You Choose
Once you've found a handful of properties you're interested in purchasing, the challenge becomes narrowing the playing field. Only one of the properties you've scouted will end up being "the one," and figuring out which one will come down to assessing each property carefully. A closer look at properties that might've seemed perfect on first inspection might reveal issues you hadn't spotted before.
Be sure to assess the condition of the property thoroughly. Unless you've budgeted for a fixer-upper, you should avoid buildings with major damage or the potential for imminent issues. Make sure the location of the property is ideal for your purposes, and understand what types of leases come with each option. Most importantly, check the property titles of each piece of real estate you consider. Contact previous owners and confirm that there are no outstanding fees or leans that you're not aware of.
#5: Inspect Before Buying
With your options narrowed down, it's time to give each piece of commercial real estate a final inspection. Have your broker look over the property and be sure to allocate some of your budget for a full professional once-over from an expert.
Even a small issue with the building could become a major headache in the future. Steering clear of real estate with electrical or infrastructural damage might mean passing on a building you've had your eye on, but it will also mean saving money in the following years.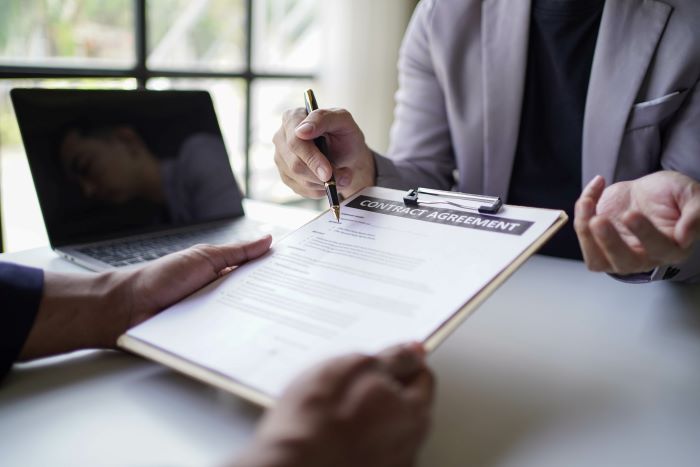 #6: Make Your Offer
The time has finally come. Your dream real estate has been found and fully vetted. Now all you need to do is make an offer. This is where your commercial real estate broker really comes in handy; they'll be the one drawing up the purchase and sale agreement for you, as well as presenting it to the seller.
If your offer is countered, you and your broker will work together to negotiate a new price. This process might repeat a few times before a final deal is reached, and there's always the chance that the purchase might not go through. If that happens, dust off your next best choice and make a new offer for that property.
Key Takeaways
To recap the entire commercial real estate checklist, remember to start out by establishing goals for your purchase. Then, determine your financing options and team up with your broker. Remember to assess each property on your list, thoroughly inspect your final choices, and then make your offer on the property that best fits you. If all of these steps are followed, the end result will be a piece of real estate with your name on it.
Commercial Real Estate Properties in Columbus, OH
If you're ready to get started on your own commercial real estate purchase, talk to the experts here at DRK. Our real estate team is always on hand to answer questions, provide guidance and help you find the ideal property to purchase.
Take a look at the purchase-ready properties available in the Columbus, Ohio, area right here.
Until next time,
Other blog posts you may enjoy:
Benefits of Leasing Office Space
How to Buy Investment Property
How to Find the best Commercial Real Estate to Lease