Times and trends are changing, and it's important to keep up.
2023 has seen the commercial real estate industry face new challenges and fresh paradigms. From pandemic-era shifts to the emergence of new technology, the landscape is evolving in new directions. Knowing where the proverbial winds are blowing will help you stay on track as currently emerging trends continue to gain steam.
Here are the top property management trends for 2023 that you should keep an eye on.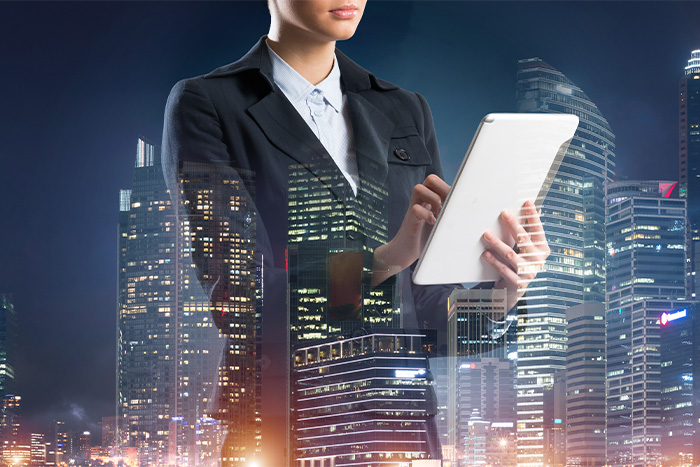 Understanding Commercial Property Management Trends
Before diving into the property management trends themselves, an overview of commercial property management itself is in order. Briefly put, managing commercial real estate involves overseeing the day-to-day operations of a non-residential property. This includes maintenance, tenant relations, rent collection, financial tracking, marketing the property, maintaining documentation and more.
While these aspects of property management remain constant, how they're overseen and handled can change with industry and technology shifts. This is where understanding (and keeping up with) new trends will benefit a property manager.
Property Management Industry Trends
Our first batch of trends focuses on industry shifts. They include:
Prioritizing Tenant Experience: Making sure your tenants are happy should be a major priority while managing your property. By taking their concerns and needs into consideration, you're showing them that their comfort is your priority. This, in turn, incentivizes them to continue using the property.
Energy Efficiency: This might not be an entirely new property management industry trend, but it's still an important one. With inflation on the rise, saving cash where you can (while still maintaining a high standard of quality for your real estate) is a wise move. Consider investing in energy-efficient appliances, smart technology and water-saving solutions.
Third-Party Outsourcing: Another solid way to save money is to outsource certain aspects of property management to third parties. A manager might have plenty of expertise in tenant negotiations, but might not have the knowledge to fix a broken water pump. Bringing in experts in those fields not only takes stress off the manager, but also ensures that the property gets the best maintenance possible.
Demand for Strategies & Services: Following property management industry trends benefits you and your tenants in equal measure. Tenants are actively invested in better solutions for property management; by investing in strategies that benefit tenants, you create more opportunities for retention and trust. This benefits both your business' reputation and its bottom line.
Property Management Technology Trends
The next collection of trends dives into the technological side of property management. Here's the list:
Data Analytics: Tools for organizing and analyzing data are making property management easier by saving both time and money. These tools can give you better pricing and profit strategies, plus the ability to track occupancy rates and identify potential inefficiencies before they become issues.
Automation Tools: Manual data inputting is quickly becoming a thing of the past. Automated tools and tasks save time otherwise spent on cataloging information by hand. This allows you to spend more time on emergencies and day-to-day operations.
Virtual & Augmented Reality: One of the most fascinating property management technology trends of the year is virtual and augmented reality. This tech allows tenants to get a better remote look at your property than ever before through 3D virtual tours, and can even provide them with guides and emergency protocols.
Artificial Intelligence: Last but certainly not least, there's the current rise of artificial intelligence. New AI software is enabling property managers to streamline workflow and increase productivity by automating the processes involved. AI virtual assistants can give you property information quickly and reduce response times, while AI reporting can create and maintain tenant records and take care of accounting.
The Bottom Line
In the end, embracing these new property management trends will give you a huge advantage as the industry continues to change in 2023 and beyond. By prioritizing your tenants' experiences, outsourcing to third parties, seeking energy-efficient solutions and meeting the demand for new strategies, you can stay current with what's expected of property management moving forward. And by utilizing new technology like analytic and automation tools, virtual and augmented reality systems and AI assistance, you'll be primed to better serve your tenants, your communities and your business.
Are you ready to get current with your commercial real estate? The experts at DRK can point you in the direction of your ideal property. Plus, our team of commercial property management pros are always on hand to help you serve your tenants, maximize efficiency and keep up with the latest industry trends,
Take a look at the purchase-ready commercial property available in the Columbus, Ohio, area right here.
Until next time,
Related Blog Posts